August 31, 2021
María Lucía Expósito
Cuban Entrepreneurs: A New Look at the Crypto Orbit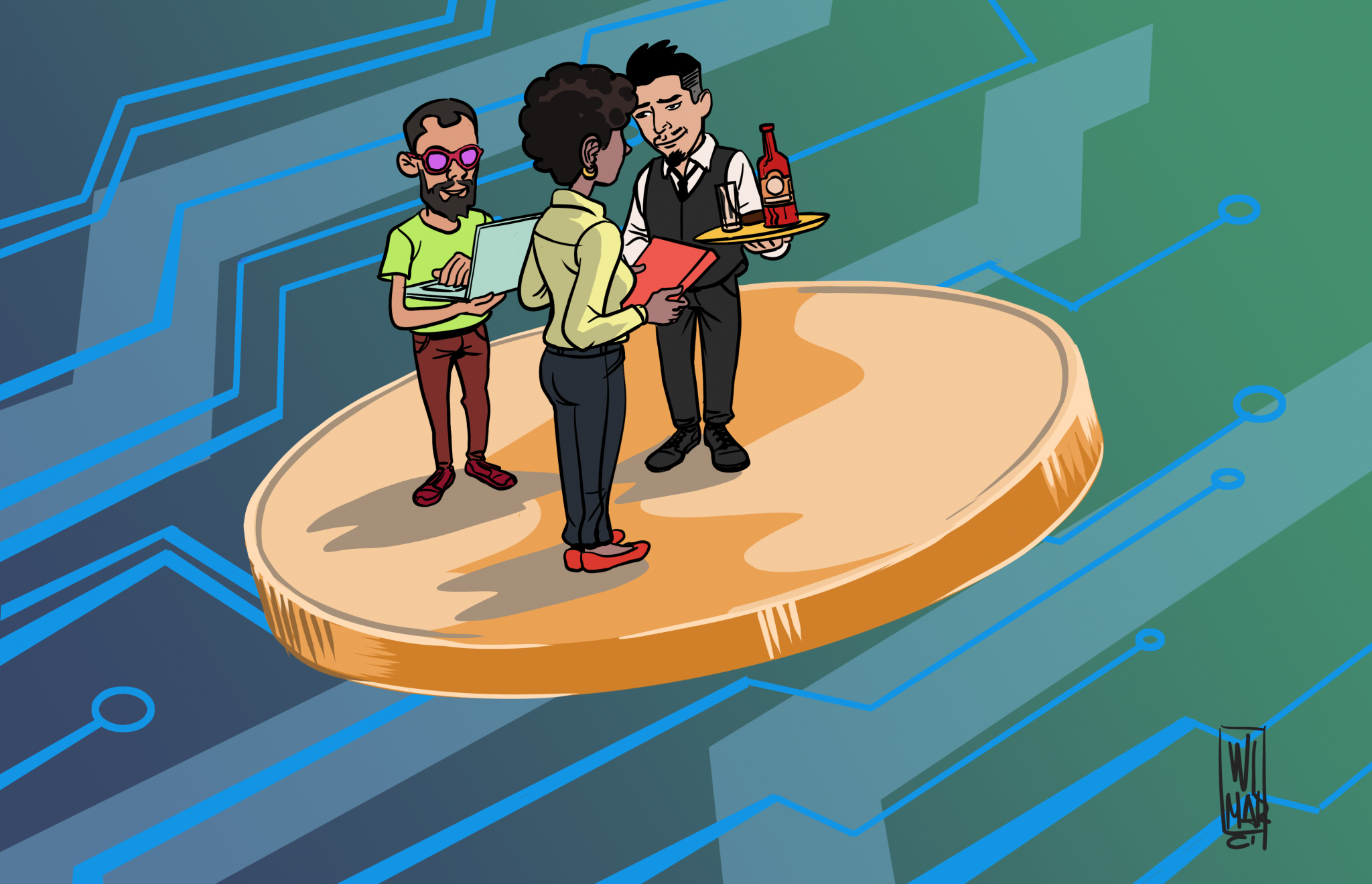 Over the last two years, Cuba has introduced new opportunities for accessing the Internet. And with these new opportunities, interest in cryptocurrencies and their means of exchange has arrived—and is here to stay. The Cuban entrepreneurship sector has taken advantage of emerging popularity by including these virtual currencies in the everyday life of their businesses.
Similarly, the government has begun to pay attention to the issue as of May of 2021 when the current Cuban president, Miguel Díaz-Canel, declared during a conference that the "convenience" of the use of cryptocurrencies for the country's economic operations was being analyzed. This analysis makes a lot of sense if we consider that the country is mired with a severe economic crisis and is experiencing great difficulties accessing international financial markets.
Cryptocurrencies have made steady progress in Cuba. From establishing avenues for their sale, which includes a crypto community with exchanges designed for the national client, to the possibility of accessing certain goods and services with them.
On the Corto Circuito podcast, from the Cuban website Cubadebate, the Cuban YouTuber and programmer Erich García has discussed cryptocurrencies serving as an alternative for buying in online stores. He also sees the advantage behind handling valuable assets, from the conception of a centralized database, with a currency that does not have an assured backing by a bank, but that depends on the supply and demand and the interest of each person.
"As of 2019, I can affirm that many people have been selling cryptos, and before creating Cubaxchange (now HeavenEx), I created a website called blBtc. I created another one called CubaCoin, and that one incorporated a referral system at the same time that the Brazilian exchange fusyona did, which had its sights on internal exchange. At the time, sites like these were in demand because of the scams found in Telegram and WhatsApp groups," says programmer Felix Ulloa, creator of HeavenEx.
From his experience as a leader and enthusiast of the HeavenEx team, Felix confirms that today they have more than 150 users and 43 payment methods along with the option to buy virtual Visa and MasterCard cards, send recharges, and transfer from user to user. "Everything on the platform is with crypto; trx, tron ​​and ethereum have raised commissions and that's why we have a movement of usdt, a stablecoin equal to the value of the dollar. We charge 50 cents for every 100 dollars."
The Come y Calla Bar Restaurant, located in Centro Habana, accepts payments in Bitcoin and adapts its rates to the equivalent of the USD dollar. In Santiago de Cuba, the Burger Like hamburger shop also receives payments in bitcoins, ethereum, dash, and doge. Millenium, a startup that offers mobile and printing solutions, also accepts payments in crypto assets. The Cayo Largo del Sur hotel, on the Isla de la Juventud, includes Bitcoin in its payment options, in addition to the more traditional methods such as credit cards and Paypal.
The exchange site Pionex is popular among independent Cuban entrepreneur spaces. The most experienced traders converge on this site, as well as other stakeholders interested in selling.
Another of the projects that has forged its own path, this time within the art world, are NFTs. An NFT, or a Non-Fungible Token, is a cryptographic token that represents a single asset. It is an electronic file format based on blockchain technology, just like cryptocurrencies. A token is a non-exchangeable asset that holds unique additional information. This makes differentiates them from cryptocurrencies, which also use blockchain technology but are interchangeable with each other like any other physical currency. For an artist in Cuba, creating an NFT and managing to sell it can certainly be difficult, but not impossible. You can access sales platforms with the help of VPNs, and HeavenEx recently added this category to its exchange options. At the end of March of this year, photographer Gabriel Guerra Bianchini became one of the first Cuban artists who put his work up for auction on NFT.
Finally, we would like to highlight the experience of entrepreneurs Thais Lisset and Erich García Cruz, who at the beginning of July coordinated P2P donations from abroad using cryptocurrencies to support the situation in the Matanzas province. This experience shows us the enormous potential that cryptocurrencies can have in establishing direct channels for person-to-person donations.
The recent ups and downs in the crypto field have not stopped small businesses in Cuba from including this virtual exchange value in their rates. The Institute of Cryptography of the Faculty of Mathematics at the University of Havana, together with the Central Bank and the Ministry of Justice, have developed laudable regulatory frameworks, but there is still no concise verdict on this, though it won't be ignored in the near future given the desires of a growing and modern sector that advocates its use and acceptance.
María Lucía Expósito is a paper journalist and poet. She writes about technology, film, literature, and other good herbs. She is a photographer without manuals. She investigates issues about social and environmental journalism. She lives in Havana.
Illustration by Wimar Verdecia Fuentes. Find him on twitter @FuentesWimar
---
References
https://www.efe.com/efe/america/economia/cuba-analiza-the-use-of-cryptocurrencies-before-the-economic-crisis / 20000011-4533878
https://www.google.com/amp/www.cubadebate.cu/noticias/2021/01/29/cortocircuito-criptomonedas-y-soluciones-cubanas-podcast/amp/
https://twitter.com/thais_liset?lang=es
BACK TO NUEVOS ESPACIOS