December 15, 2021
María Lucía Expósito
Cuba, Another Open Stage for the NFT Universe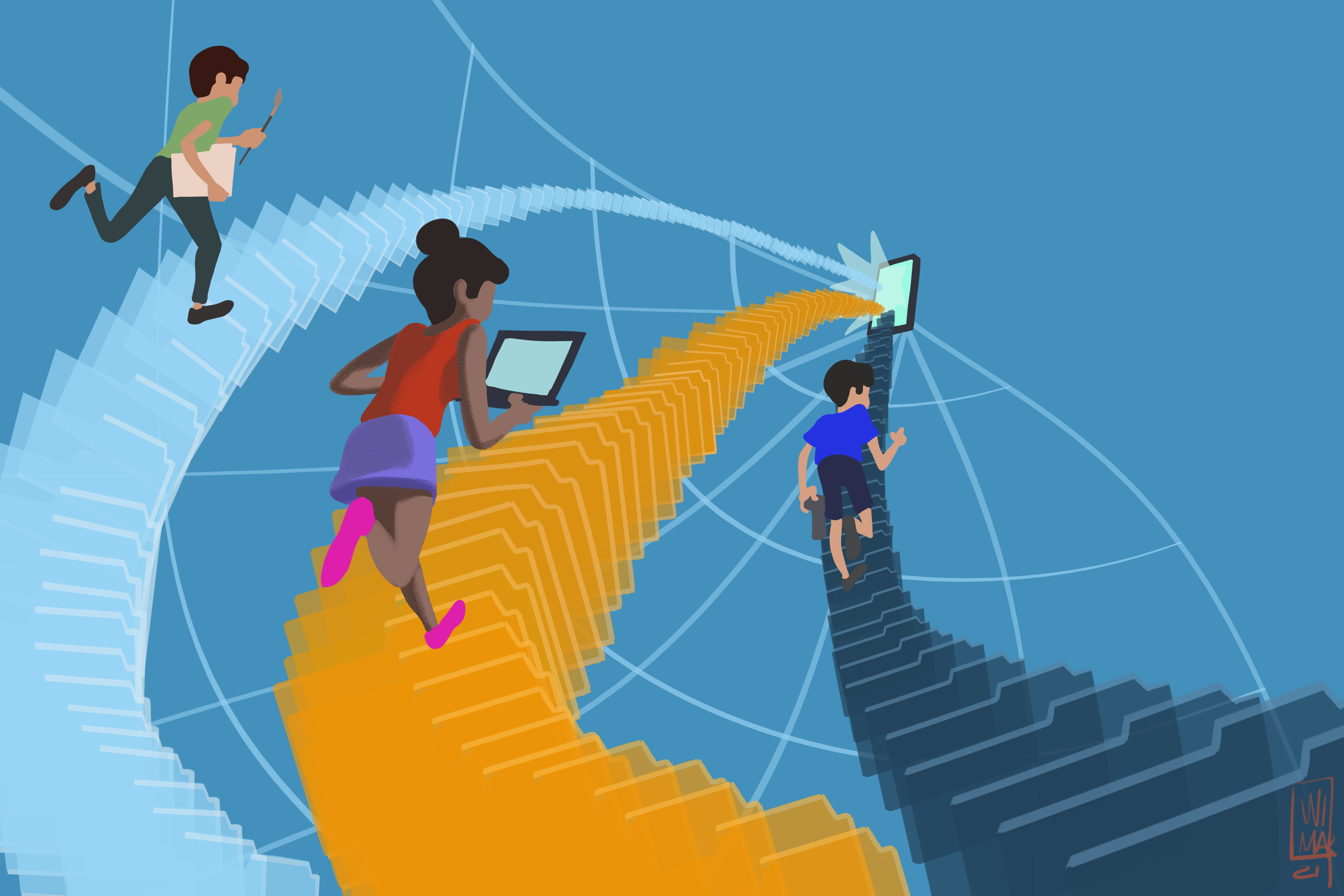 Ten months have passed since news broke that the image of a Havana cityscape, with its colorful balconies, had become the first NFT (non-fungible token) photograph to be auctioned by an artist residing in Cuba.
With the work "Hotel Habana 3/10" by Cuban photographer Gabriel Guerra Bianchini, the island joined the growing global market for virtual art that attracts collectors and technology fans alike.
To be clear, there is no concrete evidence that Bianchini was the first Cuban to sell an NFT. There have probably been some before him, but perhaps because he is a renowned photographer, or due to the high cost of his work, he caused a stir that would later kickstart the beginning of a national community in non-fungible tokens.
From a technical point of view, NFTs are unique, digital pieces without physical existence that are bought and sold using cryptocurrencies—or virtual currencies—through special platforms. From the symbolic point of view, the trend is growing exponentially among communities and artist guilds around the world.
Other artists quickly followed in his footsteps. Artists across the country began venturing into the space, introducing new immersions into digital art, especially in areas that had little Cuban representation. One can observe an amalgam of art adapted to galleries and traditional sales that has mutated towards online platforms.
Despite increasing difficulties in accessing the NFT market from the island, a whole new conversation has been generated in channels and chats where artists share insights into how they managed or failed to enter a range of platforms. Some of the challenges include the repeated use of VPNs and unstable connectivity speeds that slow down browsing through some of these sites. Currently, there are solid examples of a sort of Cuban "club" on various platforms, especially OpenSea and Foundation.
Terms such as "mint," referring to the act of putting an NFT up for sale or auction; and "gas," which is the cost or tax for "minting," have been added to the vernacular and the minds of these Cubans. The latter must be paid for because each operation carried out on blockchain ledgers entails a series of actions on servers that helps prop up the technology.
There are several platforms, each with its own characteristics, where you can "mine." It has become almost strategic to choose the best or most feasible platform to start from scratch. OpenSea has been the most important of the NFT platforms and the one with the greatest hype. There you can find exclusive works of art by renowned artists. Its popularity comes with a high cost of gas. Zora, another platform, is dedicated primarily to renowned artists and limited editions, while Foundation is primarily dedicated to renowned artists. To enter you need an invitation from a member of the platform. There is also Kalamint, which has recently gained popularity also thanks to its low gas prices.
Social networks play an extremely important role in this world. A simple Twitter search of the hashtags #NFT and #NFTCommunity reveals works for sale and allows for meeting the right people. The community of artists and collectors is gigantic, and they gather on Twitter Spaces, Clubhouse rooms, and Discord servers.
From the island, under the initiative of X Alfonso and his creative team at the Fábrica de Arte Cubano, an open community was created for Cuban artists with the aim of supporting and promoting art in NFT markets. With exhibitions mainly in the OpenSea and Foundation markets, a varied and attractive collection has been compiled that is representative of current Cuban art. They have an interactive virtual exhibition in which you can see the works for sale as if it were a gallery.
Cryptocuban Social Club, the first Cuban collectible made with real people, and perhaps the first of its kind in the world, joins the series of projects developed on the island. It emerged only a few months ago and consists of 1492 portraits of different Cubans that are going to be launched as an NFT collection in the crypto art market under the visual concept of the aforementioned artist and photographer Gabriel Guerra Bianchini. Collaborators include his wife Denise Roque, a specialist and collector of crypto art, along with production from Estudio50 and the independent magazine Vistar. With this line of collectibles, Bianchini takes advantage of an area of interest with a great market within NFTs.
Chelsy Escalona is a Cuban illustrator and graphic designer. Her arrival to the NFT virtual space came as a result of news and references. She tells us about her experience:
"A friend in the United States saw a news story about a visual artist who had sold his work for a large sum, and it had gone viral on Twitter. And I thought, why don't I try as well since it is an ideal medium, especially for digital artists? I read a couple of articles and visited some platforms, but I didn't understand well the essence of that world and decided that I was not interested at the time. I was also in the middle of finding my identity within illustration and thought it was best to focus on that first. Time passed, and Cuban artists and projects began to appear promoting an inclusive NFT Cuban community, and the issue resurfaced again in conversations between friends. I even began to have acquaintances who went in and were doing quite well, so we decided to investigate again, this time in greater depth. I asked those who were already entrenched in that world about their experiences. I had a few weeks of a lot of analysis and paradigm shifts because entering involved being very informed and certain about it. There are many people who have positions and arguments against it that can damage the vision of artists who participate. I knew very little about crypto, and I knew nothing about crypto assets. It was when we returned to NFTs that I began to learn a little more, but I still have a long way to go."
How has the experience been regarding your work on that platform?
"My work has been very well received in this medium for someone who started just a month ago with NFTs. I have managed to sell several pieces, the community already identifies my work, and I feel very loved by each new artist or collector that I get to know, so much so that I am already collaborating on two projects: one Cuban and one international. Various media outlets have approached me interested in getting to know my experience and my work, and I am also getting ready to participate in a collective expo. To be someone new in this space and with a large number of followers, I think my work has had the wind behind its sails from day one."
What has changed in your productive routines and in the context of connectivity?
"My routine has not really changed much, I had been using my main Instagram account for a long time, where I tried to upload content regularly or at least be aware of what was moving on the platform. With this turn towards NFTs, I had to learn about Twitter and also where this community moves. In addition to learning how to promote my work, I noticed that it requires more connection time because you are responsible for making others see your work and connecting with others, but in terms of productivity I keep the same habits."
Is there, or can we already speak of, a community of Cuban artists in those digital art spaces? Why?
"Yes, there is definitely a strong and consolidating community of Cuban visual artists in the NFT space that is growing every day and adding talent. They support each other in diverse ways, from advice to how to exhibit work to how to secure funding for new artists just starting out. It is a very united community that tries to give all the love and good vibes there are to give, with the intention of making Cuban art more visible."
Another young Cuban artist, Kina Matahari, dedicates her curatorial work to new modes of perception and visuality. She learned of the existence of NFTs in March of this year, through a BBC publication about the sale of a digital asset: The First 5000 Days, by artist Beeple, which sold for an approximate value of $69 million dollars. This sale was made through the famous Christie's auction house and had the technical support of the Ethereum blockchain.
"I have training as an art historian and my critical, curatorial, and artistic work has been developed almost exclusively through tech, social networks, and the Internet. My first texts appeared in digital medias such as El Estornudo and Hypermedia Magazine; my first curated exhibition was a virtual 360◦ view for the Behart platform. My art is shared through social networks. Some works are even built on interactions within them, always under the name Kina Matahari. So, it was extremely attractive for me to explore this new universe and its possibilities."
Before these forays, did you know about cryptocurrencies and crypto assets?
"I knew about the existence of cryptocurrencies, especially Bitcoin, but I had never been interested in them, nor in trading. In fact, it's something I don't think I have a knack for. However, NFTs made it possible for me to insert myself in these markets from the role of a creator. The universe of NFTs is not only a platform, but also all the digital assets that are supported by a blockchain. Its most active markets are currently on the Ethereum blockchain through OpenSea, Foundation, SuperRare, to name a few. I have work in the first two, and I investigated the HicEtNunc platform [editor: now defunct] of the Tezos blockchain.
My personal experience is one of absolute exploration and enjoyment. It's like discovering a new language. How the community articulates its communication is essential for the visible existence of a creator in this medium. Initially, I tried to translate previous works and ideas into digital assets. In some cases, such as photography and video, which are already formatted as digital data, it was much simpler. I am currently working on more common media for this medium, such as 3D work."
What has changed about your productive routines after this step and in terms of connectivity?
"Connectivity and technology are factors that play against Cuban creators. Add to that the exacerbated electricity crisis, since the means to create and navigate on these platforms uses both the internet and electricity. On the other hand, as I mentioned before, my previous work was also developed on social networks, so I did not suffer a big change in work routines, beyond incorporating new digital creation tools."
Kina explains that the Cuban community resonates a lot at the moment within the different platforms and spaces for socialization about NFTs.
"The Cuban community is vast and constantly expanding. Each creator who manages to sell a work helps another to join. The community is very diverse in terms of its aesthetic and conceptual production; it is made up of illustrators, photographers, designers, digital, video, and 3D artists, painters, and many others. It is also generationally broad, assimilating very young members as well as those with established and extensive art careers. It is made up of important projects for managing artistic groups and minorities such as Fábrica de Arte Cubano and ClitSplah. In addition to the very active and beautiful curatorial work of Gladys Garrote (Tropical_Jewel). The Cuban community is constantly present on Twitter and ClubHouse audio spaces, presenting their own projects to the international community. We have just won a wide gallery on the virtual exhibition platform Oncyber, in which we maintain the collective exhibition Cuban Women Art and Cuban NFT Gallery, Metaverse #1, one of the most popular in the space. There is a marked interest from some collectors toward the Cuban community for its high artistic value and diverse proposals."
There have been several Cuban artists, projects, and exhibitions within the NFT universe that have managed to quickly insert themselves into the crypto art environment this year. The field of social networks also serves as a roadmap to find works made by Cubans (mostly young people) who have managed to advance at a good pace in this novel, virtual alternative.
---
María Lucía Expósito is a paper journalist and poet. She writes about technology, film, literature, and other good herbs. She is a photographer without manuals. She investigates issues about social and environmental journalism. She lives in Havana.
Illustration by Wimar Verdecia Fuentes. Find him on twitter @FuentesWimar
BACK TO NUEVOS ESPACIOS